The House committee investigating the January 6 pro-Trump attack on the the U.S. Capitol will meet early next week to discuss moving forward with a criminal referral against Steve Bannon after he refused to testify on Thursday.
Bannon's lawyer sent a letter to the committee on Wednesday saying that, at former President Donald Trump's request, his client would not testify. The letter cited Trump's disputed claim of "executive privilege," which he is using in a bid to shield himself and other associates from the investigation.
"The Select Committee will not tolerate defiance of our subpoenas, so we must move forward with proceedings to refer Mr. Bannon for criminal contempt," Representative Bennie Thompson, a Mississippi Democrat who chairs the select committee, said in a Thursday afternoon statement. "I've notified the Select Committee that we will convene for a business meeting Tuesday evening to vote on adopting a contempt report."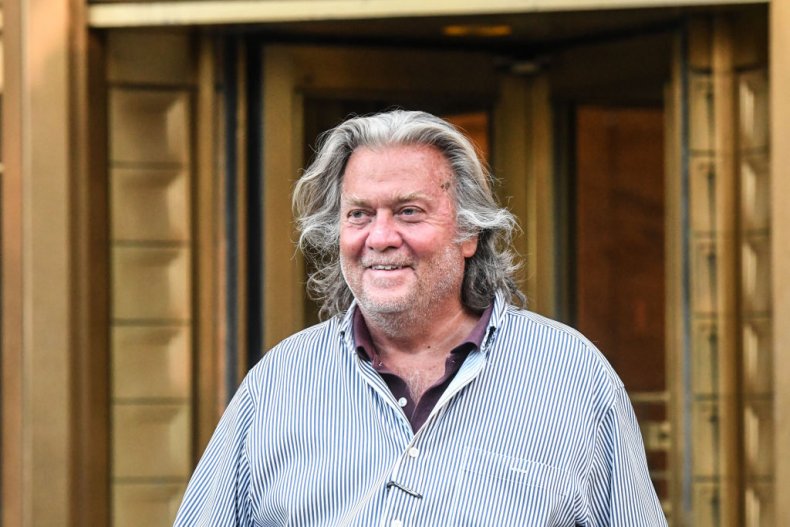 Bannon, who previously served as a White House adviser to Trump and as the CEO of his 2016 presidential campaign, was required to attend a hearing to testify on Thursday but did not show up after his attorney's letter notified the committee that he would not comply with the subpoena.
"The Select Committee will use every tool at its disposal to get the information it seeks, and witnesses who try to stonewall the Select Committee will not succeed," Thompson said. "All witnesses are required to provide the information they possess so the Committee can get to the facts."
Bannon's claim that he is shielded by executive privilege is seen as unusual by many legal experts. While he served in the White House, he departed from that role in August 2017. The current White House of President Joe Biden has also asserted that the Trump administration officials and documents related to January 6 are no longer covered by executive privilege, as the former president is no longer in office.
"Until such a time as you reach an agreement with President Trump or receive a court ruling as to the extent, scope and application of the executive privilege ... Mr. Bannon will not be producing documents or testifying," Bannon's lawyer said in the Wednesday letter to the January 6 committee.
Bannon received an official pardon from Trump right before he left office in January. The former Trump administration had been charged with fraud related to a crowdfunding campaign to raise money for the former president's promised border wall.